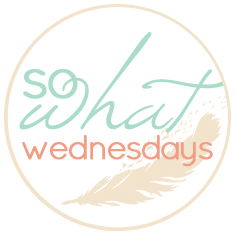 As always, here we go, yo!
So What if I still think Howard Stern's show is funny? It's a dirty secret and I know I should be ashamed. Please don't hate me, I love you.
So What if I created an impromptu community "fun run" for National Running Day? Someone had to do it.
So What if I love creeping on other people's "To Do" lists? They're somehow totally fascinating to me.
So What if I'm kinda scared now that school is out? Time seems to be speeding up.
So What if I pretended that I had no idea that the dishes in the dishwasher were clean and waited patiently for the husband to open it last night? Whoever breaks the seal, unloads. That's just a fact. #suckah
So What if I'm contemplating taking up tennis this summer? It's never too late. Plus, I like the outfits.
So What if I still can't fathom why people aren't on the #Insta. Seriously, peeps. Get there!