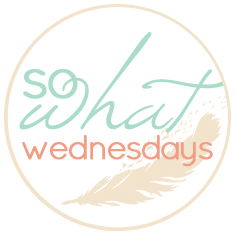 As always...here we go, yo! Linking up with
Shannon
for some weekly SWW.
So What if my current idea of the perfect day would be laying on my couch from sun up to sun down while watching Lifetime movies and eating Pirates Booty? Pretty sure there's a chubby, lazy girl inside of me who is dying to get out.
So What if I feel like unexpected 80 degrees temps = reason for a huge celebration...even if it is in my neighbors driveway.
So What if I get annoyed when people aren't on Instagram? How do you know what your friends are up to??
So What if the weather man says it's going to rain for Cap City Half on Saturday? He usually lies and if he's actually telling the truth this time, I'll just have to bust out my Run Happy visor.
So What if I went into Forever 21 the other day? My hands were tied and I may have walked out with a neon article of clothing. For myself. I know.
So What if I think it's hilar and pretty darn sweet that the 6 year old is convinced that every tooth in her head is loose? At her insistence, we do a full exam every night and not much is changing. However, she is clearly gearing up for a news worthy visit from the tooth fairy.
So What if my DVR is blowing up? I have no idea what the Housewives and Rachel Zoe have been up to for the last week. I'm getting that anxious feeling that something may fall off without me getting a chance to watch it. Know what I mean?
So What if I'm already planning to sweet talk my co-worker into going for Greek salad and Chicken Shawarma within the next 36 hours? Pretty sure there is Greek blood running through my veins somewhere. Local friends, if you haven't been to Lavash in Clintonville. Go tomorrow. And order Shawarma. And Hummus. And tell me how much you love me.
Stay tuned for my first VLOG on the
24 Day Challenge
as well as some Thursday Thoughts! Happy Humpday, ya'll!