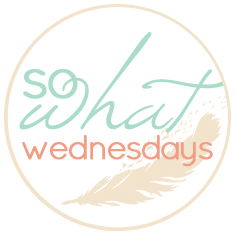 As always, here we go, yo!
So What if I had to emergently buy a little laptop so I can blog from the comfort of my bed? I blame my non-blogging days on having to go upstairs and sit upright at a computer desk. Expect a lot more blogging as a result of this fabulous decision I've made.
So What if we went out for the husband's birthday last night and I seemed to think it was my birthday too? Chocolate martinis all around? On a school night? For shizzle.
So What if I still don't have that playlist finalized? It's coming and it just might be tonight.
So What if I just got wind that Watermelon Spark is back for good and am already on the verge of hoarding it?
So What if they are now calling me by name at Schwarma? I'm trying to talk them into a "frequent flier" punch card, if you will. It's only fair that we be rewarded.
So What if I'm obsessed with the George and Jennifer story again? Dateline showed new information the other night and I can't stop googling.
So What if I can't stop trolling the www for the perfect pair of wedges. Don't worry, you guys will be the first to know when I get this figured out.
So What if I have the sudden urge to repaint the entire inside of my house? Like tomorrow. I can't live another day with these "bagel" colored walls in the great room.
So What if I saw my baby delivering OBGYN at TJ Maxx the other day and gave her a ginormous hug? Apparently, she hasn't missed me as much as I've missed her, as evidenced by her not knowing who I was for approximately 20 seconds. Twas heartbreaking, indeed.
Happy Humpday, friends!