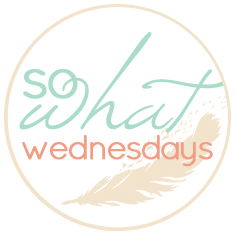 * So What if I'm tempted to defriend you on FB because you won't stop sending me requests to play weird games? If it's not Candy Crush, forgettaboutit.
*So What if I have to bring M&M's and mini marshmallows to the 6 year olds' soccer games to bribe the 2 year old to sit still for 3.7 seconds?
*So What if I said I was going to avoid the Target Easter clearance this year and when it hit 90%, I bit. Giant Easter tote in the basement is replenished with Easter tissue paper, basket stuffers, and lots of other paraphernalia that may never see the light of day.
*So What if my DVR is blowing up? I'm already behind on RHOC and I hate that.
* So What if I feel like I need a new running outfit for my 20 mile run this weekend? That will make everything about that 20 miler hanging over my head all the better.
*So What if I'm contemplating doing something super dramatic to my hair only to regret it by next Tuesday? This cycle repeats itself every 4 years.
*So What if I'm obsessed with buying this special pack of beautiful gel pens at Target? They'll make my planner beautiful. Why can't I find them?
Jen
, this is clearly your fault.
*So What if I've already burned through my stash of Lemon Mint Leaf candles from B&BW?! Seriously? Who does this and how is this possible?
*So What if sleeping past 7 a.m. is sleeping in for me? I slept until 7:15 on Sunday and was all kinds of discombobulated when I saw daylight. I was thought I was late for something and felt like I had hit the lottery when I finally realized it was Sunday.
What are you saying SW to?
Check in later for my posting on clean, healthy turkey chili. Super easy, compatible with the Advocare Challenge and packed with protein, fiber, and flavor.