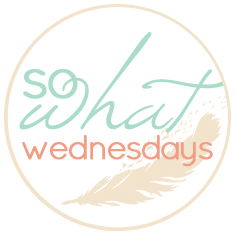 Linking up with
Shannon
for another week of SWW.
*So What if I ate that Cadbury dip and graham crackers for dinner on Sunday night? It was a holiday.
*So What if I'm planning on packing the weekend with house-related projects during our upcoming KFW (kid free weekend)?
*So What if I'm thinking I need another monthly subscription box to look forward to. Right now I've got Birchbox and PopSugar. I'm thinking I need just one more box to look forward to. Suggestions? And for the record, I can see how this could be seriously addicting.
*Speaking of addictions...So What if I'm still wasting valuable time in the evenings playing Candy Crush? According to my Facebook feed, so are the rest of you.
*So What if I sometimes get secretly annoyed at my yoga teacher? Why is she so relaxed?? Teach me your ways, yogi.
*So What if I stalk Lulu's We Made Too Much page? I very rarely bite but just need to make sure there are no life changing deals that I need to know about.
*So What if I'm sore as heck from Body Pump? I took over a week off from weights and every muscle is barking. Me likey.
*So What my if kids didn't get their picture taken with the Easter bunny this year? We had a blast Easter weekend and that's what matters.
*So What if I caved and am having an online Tupperware party? I need another omelette maker.
What are you saying SW to today!?
And ps- Last day to order to get your product by our 24 Day Challenge April 8th start date! Don't miss out!