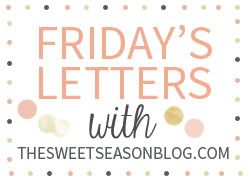 Here we go, yo!
Dear Pirates Booty,
Why am I suddenly obsessed with you? It all started with that big economy sized bag that I bought at Cosco for my kindergartners' lunches. Suddenly, I can't keep my fake cheese coated fingers out of the bag. You play mind games with me. Your gluten free and all natural claims are trying to make me think you are healthy. But really, you are just another potato chip in disguise.
Dear Local Online Buy/Sell/Trade board,
Why are you so addicting? I'm unloading crap left and right and picking up some goodies (that I don't need) along the way.
Dear Weather Man,
You are making me pleased as punch with your forecast.
Dear Husband,
I'm sure you and your minimalist ways are annoyed by all of the gadgets and new life- changing hair products that I keep bringing into the house. I know you want to, but thanks for not complaining. If you follow me on Instagram (Advorunner), you already know this.
Dear Tulips,
You made me so happy but I'm sad that you only lasted for 3 days. Lucky for me, my friend (A-Dubs!), taught me a trick. Place two pennies in the bottom of your water and your tulips will last forevs. Am I the only one who didn't know this? I just bought some new beauties so stand by for results!
Dear Sephora,
Don't bother with your 15% off coupon.... only to be used in a 5 minute window of time. Ulta has the same loot and sends me 20% off everything coupies on the reg. Ulta>Sephora in my book.
Dear Runnerdog,
You are a real sweetheart and you have stolen our hearts. However, you scratching the wood floors is really stressing me out. Anyone with a large dog have any advice here? Other than take a xanax?
Dear Pinterest,
I've got big plans for you this weekend. While the husband is painting the bathroom, I plan to finally lay some pins to rest.
Hope everyone has a fabulous Friday! See you back here tomorrow with a
24 Day Challenge
preparation post! 3 days and counting!