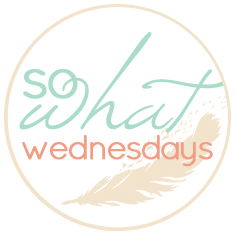 Another week has gone by and it's time for a link up with
Shannon
for SWW.
So what if I cancelled my planned workout before the crack of dawn yesterday. My body felt beat up and I needed a break. Too bad I was still up for the day at 5:15 a.m.
So what if I sent the two year old to "school" on Monday. We had no heat and I was dealing with the repair man. Plus, I had a slew of other things to check off my list that were nearly impossible to complete with a two year old in tow.
So what if I'm seriously planning to take an afternoon and haus it down on my Girl Scout cookies when they get here? How's that for healthy living?
So what if I'm wasting valuable moments of my evening all while turning my brain to mush by playing Candy Crush? Where did this game come from and why is it so addicting?
So what if I hate going to the movies? Yes, I know there are good movies out there right now. However, if we have a date night or I'm having a girls night, the movies are the last place you'll find me. Yawn. I prefer my own couch, my own snacks, and my own bathroom. Taking the kids is another story. But me going willingly, with no kids in tow, will never happen.
So what if I can't stop buying pajama pants? It's been a lifelong addiction. And they make me oh so happy.
What are you saying So What to this week? Feel free to link up with
Shannon
and fill us in!