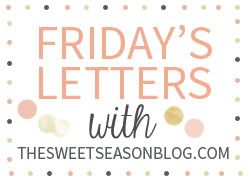 Time for a little link up with
Ashley
for some Friday fun.
Dear high winds
, why must you spew my recycling bin all over creation and allow my neighbors to witness all of my dirty secrets?
Dear two year old,
nope it's still not light outside. In fact, it's 3:30 a.m. Good thing you are cute.
Dear short girl on the treadmill next to me,
stop running so fast. You know I have to race you.
Dear the Muse,
why do I love that Madness song so much? I can't stop with the obsession.
Dear Express,
stop sending me coupon booklets. I don't even like you that much but the coupons with the skinny girl in the spring clothes makes me think I do.
Dear weather,
either s*it or get off the pot. If you are gonna snow, then you need to dump on us. Stop messing around with the frigid temps and snow flurries.
Dear Giant Eagle,
why are there only 3 registers open at 5 p.m.? Seriously? I keep threatening to break up with you and go to Kroger but your stupid gas perks keep me coming back.
Dear Bobbi Brown,
stop making those pretty nude/brown colors I love. Your sales lady told me that you have a ton of new gloss's coming out in a couple weeks and that's gonna be a real problem.
Dear Lululemon,
I love you but why is your stuff so ugly lately? Seriously? I don't want this relationship to end so please get it together and stop making weird color block combos.
and lastly,
Dear husband,
thanks for being a lamb and making the bed every day. Seriously, you know that an unmade bed makes me homicidal and I love you for making the bed when you get out of it.